Ideal Postcodes partners with Akarigo to extend Address Validation to Odoo CRM users
Akarigo
Akarigo is a leading Odoo Gold Partner delivering successful Business Management Solutions using Odoo's flexible and affordable ERP platform.
With an international team delivering Odoo projects across UK, Europe, USA, South America and India, Akarigo pride themselves in their unique approach towards Management & Technology consultancy.
Akarigo have over 20 years of experience and have developed outstanding expertise in delivering Client Relationship Management (CRM) solutions and integrated ERP platforms that will substantially improve your teams' productivity and performance.
Akarigo and Ideal Postcodes Partnership
Ideal Postcodes and Akarigo have partnered to provide Odoo CRM users the opportunity to streamline leads, improve database accuracy and increase sales.
As an expert in Odoo platforms, Akarigo wanted to offer their clients an option to integrate address validation functionality to Odoo CRM. Ideal Postcodes' Odoo integration is the perfect solution, we provide a simple to implement browser extension to enable postcode lookup and address finder.
Sign up to set up a free trial
Odoo CRM
Odoo CRM is the Customer Relationship Management module within the Odoo ERP platform, which allows you to see all your leads in one location, manage and nurture them in different stages, and analyse your reports.
The Odoo CRM helps sales teams become more efficient in their operations by easily segmenting customer information, tracking leads and opportunities, gaining accurate insights about customers and making smarter business decisions.
Odoo Address Validation
Address Validation will capture accurate customer address details in real-time. This will speed up the entry process on an address form, avoid spelling errors and ensure you hold correct and up-to-date customer data.
With Ideal Postcodes' Odoo integration, you can implement address validation by installing our browser extensions below:
Here's a snapshot of the Address Finder: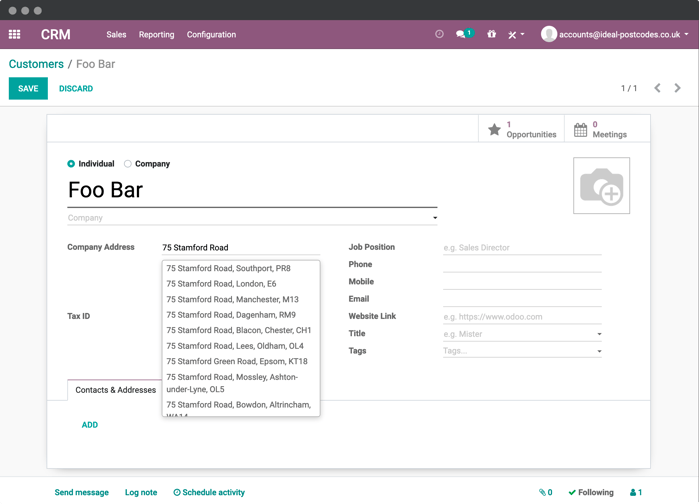 Follow the steps in our Browser Extension Guide to begin your integration. If you need support, you can either reach out to us on our support page or drop by our developer chat page.