Customer address data is your most valuable business asset. Gain a 360 view and analyse your sales with address cleansing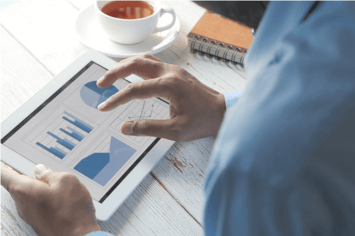 After a popular shopping holiday such as Black Friday and Cyber Monday, it's important that ecommerce businesses keep up the momentum and start preparing for the next year. Reflect on your achievements and failures to reevaluate your operations.
The holiday season generates a lot of sales data, such as which products were the most desired, which marketing campaigns were the most effective and which promotions brought in the most sales. If you take a close look at your customer data, you can use these statistics to make better, more informed business decisions for the future. Customer address information can help you understand which demographics enjoy your products the most and allows you to personalise communications. For example, you can segment your marketing strategies according to consumers who live in the same areas to identify better ways to reach them and improve the overall customer experience.
The best way to collect customer address data is through address validation, which is a search feature that validates addresses on a form. If you implemented address validation before the holiday season, then you are one step ahead. Your customer database will hold the most accurate address details and you will be able to analyse your data. However, if you didn't get a chance to integrate address validation to your ecommerce store then it's best to do this now, so you can avoid any data errors and additional costs in the future. You would also need to organise your existing customer database, to gain a 360 view of your customers. This is done with address cleansing, which is the process of 'cleaning up' your data by completing, validating, deduplicating and correcting customer address details.
Address Cleansing
Address Cleansing validates a database of addresses to ensure they are legitimate and deliverable. There are nearly 30,000 new addresses or changes each month to the Royal Mail Postcode Address File (PAF), which means your address database needs to be maintained.
Address cleansing will identify incorrect, incomplete and duplicate records, then format the data, so you can rest assured you're sending communications to the right person at the right address every time.
Benefits
Save money and reduce waste: you can ensure you are contacting people that have a genuine interest in your message

Save time and increase productivity: avoid spending hours manually maintaining your database

Minimise compliance risks: comply with GDPR by keeping your customer data secure and accurate

Reduce returned mail: avoid future undeliverable mail and save costs on deliveries or returned parcels

Improve quality of address data: be confident that your database holds accurate, valid and enhanced customer addresses
Address Cleansing Practices
Maintaining an address database on your own is a long process and it is easy to get it wrong. Allowing an addressing service to perform a cleansing project for you will save you time and money. Below are some practices of address cleansing so you can understand what you are signing up for.
Examining and correcting each address record
Address cleansing includes carefully checking each address in your database to find errors in typing, incomplete words, repeated terms, missing spaces between words and numbers, etc.
Validating new or outdated addresses and updating records
Some postcodes are terminated or under construction. The data is verified against PAF and the Not Yet Built dataset to find discrepancies and update your records.
Deleting duplicate addresses
Duplicate data happens often, which is common if the data is created manually and the same address is entered more than once. This leads to a considerable waste of time and money in marketing campaigns, mail, newsletters, etc. Address cleansing corrects the inconsistencies and deletes the duplicates.
Enhancing and completing address data
Address cleansing will complete any missing address and will also enhance your database with premium datasets such as UPRNs, Not Yet Built, Multiple Residence and Rooftop Coordinates, you'll hold a more precise and detailed view of your customers.
Formatting addresses correctly based on local postal system
The more correctly formatted your address is, the faster and more reliably your mail or package will be delivered to that premise. A full address should include a premise identifier, street details, post town and the postcode. Address cleansing organises addresses in a correctly formatted and consistent manner. Read our Good Addressing Guidelines for more details.
Gain a 360 view of your customers
After Black Friday and Cyber Monday, cleanse your address database to ensure that your products will be delivered to the right customers. You can also continue to strategise marketing campaigns by reaching the correct target audience and prepare for next year's holiday season.
Ideal Postcodes address cleansing solutions help you increase database accuracy, reduce costs and be GDPR compliant. Our address specialists verify your existing database against official data sources and return updated and accurate results. Get in touch for a free data quality report and read our address cleanse guide to understand what to expect from our service.