UPRNs used to identify premises for full fibre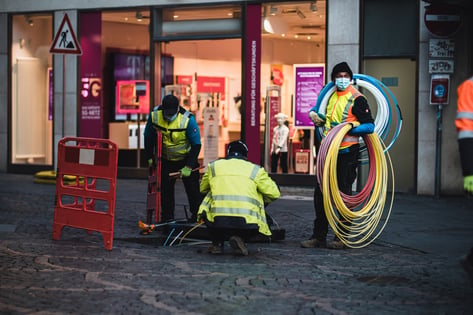 The demand for faster and more reliable broadband has increased and remote working has influenced the need to implement fast fibre for all homes in the UK.
In 2020, UK fell 13 places on a league table of global broadband speeds, making it one of the slowest countries in Europe with an average of 37.82 Mbits/sec.
Only 4% of British homes currently have access to full-fibre broadband.. The UK government plans to implement full fibre coverage by 2033.
Full Fibre
A full fibre connection can offer much faster average speeds of one gigabit per second (Gbps) than your traditional broadband. This type of fast connection is useful for individuals and businesses with high digital demands.
The government estimates the total cost of rolling out broadband across the country will be about £30bn.
There are also plans to make public investments in full fibre for rural areas to begin simultaneously with commercial investments in urban locations. This means there will be full fibre broadband for all new build homes, and a new priority to connect hard-to-reach rural areas.
Unique Property Reference Number (UPRN)
Utility companies use a numeric identifier called a Unique Property Reference Number (UPRN) to accurately identify premises in order to install broadband.
Every land and property in the UK is allocated a UPRN. The unique identifier helps understand, maintain and manage address data.
Utilities also use UPRNs to link records, exchange address data and keep their databases consistent.
UPRN Address Validation
Ideal Postcodes can append and search UPRNs to your address database. Having access to UPRN will future proof your address data and ensure every address is correctly identified.
Search for a UPRN
| Address | |
| --- | --- |
| UPRN | |
| Premise | |
| Post Town | |
| Postcode | |
Get in touch with your UPRN requirements.