Together TV used Postcode Lookup on their annual Sunflower Challenge form to simplify user registration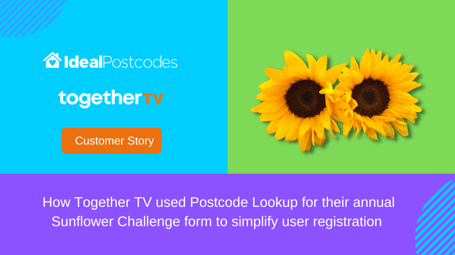 "Ideal Postcodes have been a pleasure to work with. Not only is the service they offer brilliant, the technical support we have received has been unmatched by any other look up provider we have worked with previously. The postcode look up has been an integral part of our campaign - thank you for the seamless service."

Anisa Darcy, Digital Marketing Executive, Together TV
About
Together TV is a charity led broadcaster in the UK, operating since 2000. Aimed at positively influencing our community, Together TV hosts a channel with entertaining programmes that focus on wellbeing and creativity, to help people find inspiration and better their lives. Together TV runs motivating campaigns and documentaries to encourage people to volunteer and get involved with charitable projects.
"Our vision is a world where people and their communities thrive together." - Together TV
Challenge
TogetherTV launched their annual Sunflower Challenge on 11 April 2022. The sunflower challenge was created to connect communities through a hobby of planting sunflowers, learning gardening and boost wellbeing. The challenge involves sending 50,000 FREE sunflower seed kits across the UK, teaching people how to grow their sunflowers.
Each kit includes sunflower seeds, access to the 10-week step-by-step growing journey, exclusive videos and tips from the host and gardener Danny Clarke, alongside Award-Winning Garden Designer, Fran Lawton.
To participate in the Sunflower Challenge, Together TV launched a registration page using a web form. Together TV wanted users to easily sign up on the form and ensure they capture the correct address to send out the seed kits.
Solution
We helped Together TV implement Postcode Lookup on their Sunflower Challenge registration page. The form was created using our Form Assembly address validation integration.
A member of our technical support team worked with Together TV and walked them through the process to integrate Postcode Lookup.
To register, users just enter their postcode on the form, click 'Find my Address' and they are presented with a list of accurate properties. Once a user clicks their property, the rest of the address fields on the form are automatically filled. It's as easy as that!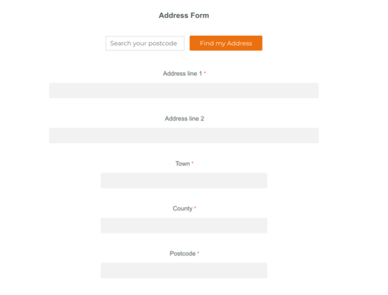 Impact
With our Postcode Lookup integration, Together TV was able to maximise their campaign and encourage users to participate in the Sunflower Challenge by offering a very simple registration process. This one step registration allows people to quickly and easily input their details, so they can get started on their journey to improve their wellbeing.