Optimise your checkout with address validation to increase conversions and improve customer satisfaction

Tis the Christmas e-commerce season
The holiday shopping season is the highlight of the year. People are feeling more optimistic about Christmas 2021 as they anticipate a more ordinary festive season than last year.
When the pandemic hit in 2020, physical retailers focused on their online shopping platforms and the ecommerce industry grew. Experts at Signifyd predict that the increase in online shopping sales would continue to grow as consumers become accustomed to the convenience of online shopping. The pandemic has forced new habits and it's clear that online shopping is here to stay.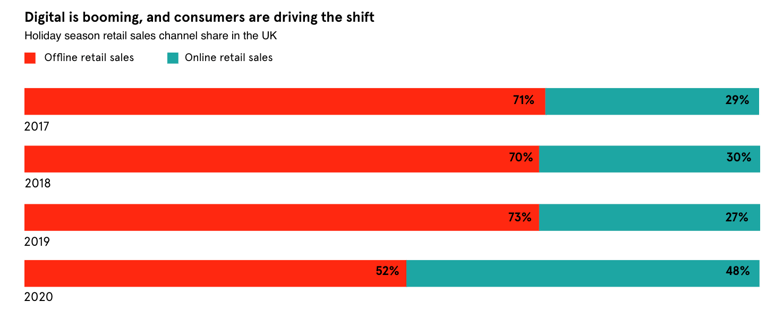 Raconteur
According to research by parcel carrier Yodel, a third of UK shoppers plan to do their Christmas shopping entirely online this year. A report done by New World One Market also displayed that 21% of UK consumers said they would shop less on the high street than they did before the pandemic. Significantly, older shoppers were most likely to say they would continue to favour online stores, with 27% of Baby Boomers saying they don't plan to return to the high street at all.
As exciting as the season is for shoppers, its success is vital for retailers. The revenue generated during the holiday seasons in November and December make up a significant amount of their total annual income, and many retailers depend on this time. The key to success for this holiday shopping season is to optimise the online shopping experience, increasing both conversion rates and customer satisfaction.
Preparation is key this Christmas
Ensure seamless shopping this season by implementing address validation on your e-commerce store. Address validation captures and validates addresses on a form, which would take place on your checkout page. It's more important than ever to add an address finder during the Christmas period and here's why:
S
peed up the checkout process
This season shoppers will be searching for the best deals online and will want to purchase quickly and swiftly. In just a few keystrokes and a response time of less than 100ms, address validation will autofill their address details on the checkout form. This is also efficient for shoppers who use their mobiles, as entering data on a small keyboard is prone to errors.
R
etain new customers
Christmas is a time when shoppers discover new online stores. Secure and nurture your client relationships by collecting their correct data. This will ensure you'll be able to contact them again and personalise communications. Address validation also includes Screen Reader Compatible tools so you can feel confident about providing an accessible store for all customers.
Deliver to the correct address
Address validation ensures you hold accurate, valid and up-to-date customer addresses. You'll be able to improve customer satisfaction by providing fast and accurate deliveries to the right property.
Gain a single customer view
Capturing address data with address validation will correctly format each record and avoid duplication in your database. By unifying customer accounts, you can provide excellent customer service and run a more efficient business.
Increase staff efficiency
Manually inputting or correcting customer addresses is time-consuming and it's unlikely that your team will keep up with the workload during the holiday season. Address validation will make this process easier by automating the process and correcting input errors with fuzzy matching.
Boost your ecommerce Christmas sales this year
Are you ready to optimise your checkout with address validation to increase conversions and improve customer satisfaction? Our address finder and postcode lookup tools are simple to integrate on many e-commerce platforms such as Magento, ShopWired, BigCommerce and more.
View our documentation to guide you on your chosen integration or get in touch to discuss your requirements.