Ideal Postcodes has released a Wix integration that adds Address Autocomplete to address forms.
Wix
Wix is a popular website building platform that allows users to create their own websites without requiring any coding knowledge. It offers a range of templates and customisable design options, making it easy for users to create a unique and professional-looking website. Wix also provides a user-friendly drag-and-drop editor, making it easy to add elements such as images, text, and videos to a website. You'll also find a variety of features such as e-commerce tools, social media integration, and SEO optimisation.
Why We Love Wix
Ease of Use
One of the most significant benefits of using Wix is its ease of use. The platform's drag-and-drop editor and intuitive interface make it easy for anyone, even those without technical skills, to create a professional-looking website quickly.
Variety of Templates
Wix offers a wide range of templates that cater to different industries and purposes, from e-commerce websites to blogs, portfolios, and more. These templates are highly customizable, allowing users to create a unique and personalized website that aligns with their brand.
Robust Features
Wix provides a range of features, including e-commerce tools, SEO optimization, social media integration, analytics, and more. These features help users enhance the functionality and visibility of their website, providing an overall better user experience.
Mobile-Responsive
Wix websites are mobile-responsive, which means they can be accessed and viewed on any device, including smartphones and tablets. This feature is crucial, given the growing number of users accessing websites from their mobile devices.
Cost-Effective
Wix offers both free and paid plans, making it a cost-effective option for businesses and individuals looking to create a website. The paid plans provide additional features and functionality, but the free plan is still highly functional and can meet the needs of most small businesses and individuals.
Read more about Wix.
Wix Address Finder
We've released an integration to add address autocomplete to your address forms.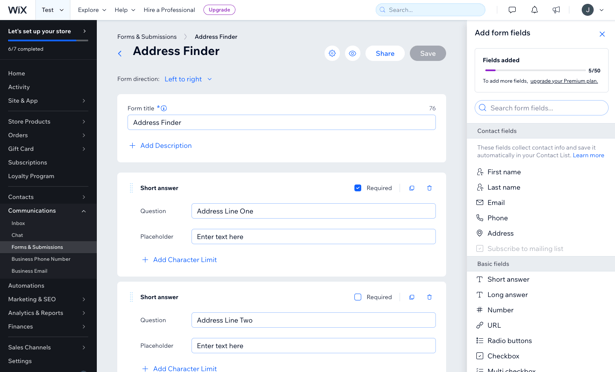 There are several benefits of using online address validation on Wix address forms:
Accurate Data Entry: Online address validation helps ensure that the address entered by the user is accurate and complete. This reduces the risk of errors, typos, and invalid addresses, which can lead to delivery problems, returned mail, and other issues.

Improved User Experience: Address validation helps streamline the checkout and form submission process, making it faster and more convenient for users. It reduces the need for users to manually enter their address and minimizes the risk of frustration or abandonment due to errors or formatting issues.

Cost Savings: Accurate address data can save businesses money by reducing the cost of returned mail, re-shipments, and other associated costs. It also helps minimize the risk of fraud and identity theft, which can be costly for businesses to rectify.

Enhanced Data Quality: Validated addresses can improve the quality of data collected, which can be useful for businesses looking to analyze or use customer data for marketing or other purposes.
Head to our Wix address validation documentation to start your integration. If you need any assistance please contact us.